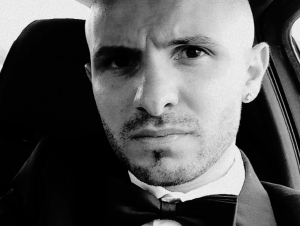 Francesco SPADARO is born in '82 closed to Lyon in France. His family is Italian, from Reggio di Calabria, an area in the deep South of Italy.
Since his youngest age, Francesco already vibrates to the world of beauty, aesthetics, fashion, and already sees himself sublimating silhouettes.
Throughout his teens, he cultivates and feeds himself about this admiration which fascinates him a lot, through his two older sisters that allows him it to be impregnated fully in this universe, but also by its Italian origins, and also Italy, propelling him towards fashion and luxury.
Francesco had to be self-accomplished by a conventional career with missions as a Communication Manager, before he could fully devoting himself to his dreams and his heartfelt projects: beauty.
Those accomplished years and maturity of his 30 years old then grow Francesco from to conquer one of the major fashion capitals, Paris.
He has been graduated from a prestigious International Academy of makeup in Paris, and is So fast propelled in the wings of television programs, in Backstage haute couture for fashion shows, on music videos, on photo shoots and spots for advertising campaigns, magazines, etc., Francesco achieves to form his own professional experience in this universe, his universe.
Now performing as a freelance PROFESSIONAL MAKEUP ARTIST, and always aiming to launch and achieve its own challenges, Francesco is now working with fashion and beauty professionals (NARS, MAC COSMETICS, BIRCHBOX, the LVMH Group of Luxury brands etc.), and now collaborates with high-fashion brands (GIORGIO ARMANI, DIOR, CHANEL …) during the Fashion weeks, but also with television producers (ENDEMOL).
Francesco is specialized in preparing, doing beauty and make up for talents from the entertainment industry: celebrities, artists …, during major famous media events (fashion shows, fashion weeks, charity galas, fashion dinners, movies launchings, exclusive interviews and photoshoots for magazines … etc).
« Welcome to this space, I am delighted to share with you my world …»
– Beauty is the essence of life –

Francesco
⇒ contact@francesco-spadaro.fr